Fort Wayne Recycling Brownfields Kickoff on Jan 24 at Parkview Field
Celebrate 15 Years of Recycling Brownfields! Community Forum to be Held at Parkview Field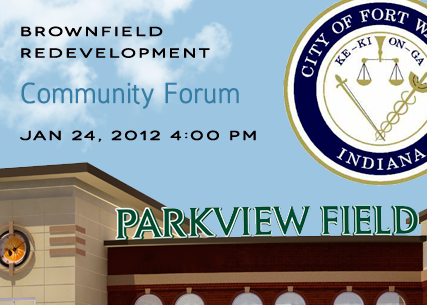 Fort Wayne, Ind. – The City of Fort Wayne's Redevelopment Department invites you to a community forum to discuss new brownfield grant funding, and to celebrate 15 years of brownfield recycling.
At 4:00pm on Tuesday, January 24th, Parkview Field will host the Redevelopment Department's community brownfield forum.  This forum will discuss details about the $400,000 EPA Brownfield Assessment Grants awarded to the City in late 2011.  There will be refreshments and you will find out:
How the grants can be utilized;
What type of sites will be eligible for grant assistance;
Who to contact if you are interested in redeveloping brownfield impacted areas;
How you can keep up-to-date on brownfield events/project status;
How to suggest sites as potential brownfields.
City staff and the brownfield consultants will be available after the meeting to answer questions.  Community input and questions are encouraged.
To register for this event, go to the City's Brownfield website homepage at http://www.cityoffortwayne.org/redevelopment-home/133-brownfields-.html and select the "Register" link under the "Events" section to RSVP for this community forum.  Alternatively, you may call 427-1127 to confirm your attendance.