City looks to inventory and assess brownfields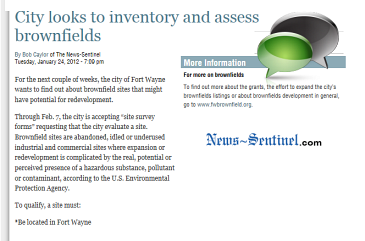 By Bob Caylor of The News-Sentinel
Tuesday, January 24, 2012 – 7:09 pm
"For the next couple of weeks, the city of Fort Wayne wants to find out about brownfield sites that might have potential for redevelopment.
Through Feb. 7, the city is accepting "site survey forms" requesting that the city evaluate a site. Brownfield sites are abandoned, idled or underused industrial and commercial sites where expansion or redevelopment is complicated by the real, potential or perceived presence of a hazardous substance, pollutant or contaminant, according to the U.S. Environmental Protection Agency.
To qualify, a site must:
Be located in Fort Wayne
Meet the definition of a brownfield
Not be owned now by the polluter of the site or be destined for an end use by the polluter
The city began more focused efforts to redevelop brownfields 15 years ago. Since then, city officials say, notable successes include Parkview Field and Harrison Square downtown and the housing, assisted-living center and YMCA that occupy the site of a 1997 tire fire on the near-south side of town. The city of Fort Wayne continues pursuing projects with private investors to redevelop such properties as part of its economic-development efforts.
In this case, the foray into finding and studying brownfields is aided by a pool of funding. Last year, the city received two grants – each for $200,000 – from the EPA to assess brownfields. One grant is devoted to sites potentially contaminated by petroleum. The other will evaluate sites that may be contaminated by hazardous materials.
"This type of recycling of land can revitalize neighborhoods," said Aliza Tourkow, a redevelopment specialist and grants coordinator for the city, told about 50 people who attended an informational meeting on the grants Tuesday at Parkview Field.
TO FIND OUT MORE
To find out more about the grants, the effort to expand the city's brownfields listings or about brownfields development in general, go to www.fwbrownfield.org."
Link to article:
http://www.news-sentinel.com/apps/pbcs.dll/article?AID=/20120124/NEWS/120129716/1012/LOCAL
For reprints please contact the News-Sentinel:
FortWayne.com
c/o Fort Wayne Newspapers
600 West Main Street,
P.O. Box 100 Fort Wayne, IN 46802
Phone: 1-800-444-3303